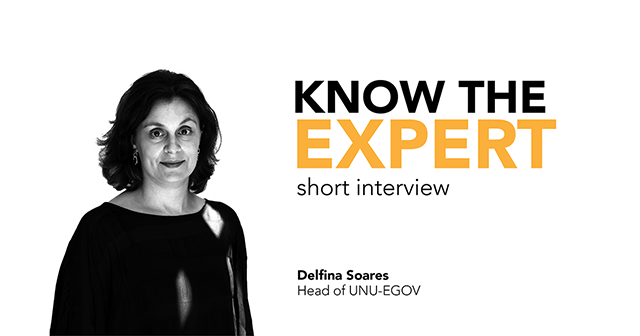 ---
Q1. It has been one year since you became Head of UNU-EGOV. What do you think were the major achievements in the period you led UNU-EGOV?
During this period of time, my priority as Head of UNU-EGOV was to develop strategies that could improve the institution at different levels, namely: managerial, scientific, institutional, and academic. I also take this opportunity to thank the previous Heads, namely Tomasz Janowski, the founder of UNU-EGOV (2014-2016), and Luís Soares Barbosa (2016-2017), for their work while in position.
Going into more detail, one of the major actions undertaken was strengthening UNU-EGOV's network of stakeholders. New relationships were established or reinforced with different actors within the UN system, with international organisations, countries, and academic and research institutions. A few examples include UNDESA, OECD, the World Bank, the European Union, governments in Armenia, Georgia, India, Latvia, Mexico, Oman, to highlight just a few. At the national level, we also deepened our connections with the Portuguese government, several national ministries, and the University of Minho (our host institution). These local relationships are closely tied with our primary goal for 2019, which is to see the transition of the Operating Unit into a UNU Institute – a fundamental step to ensure our growth and sustainability, and one I very much hope to accomplish during my time as Head.
A strong effort to promote UNU-EGOV relationships involved as well the organisation of several events, namely seminars and workshops, and, particularly, the 11th edition of our annual conference on Theory and Practice of Electronic Governance (ICEGOV), which took place in Galway (Ireland), in partnership with the National University of Ireland.
I must also highlight the improvements achieved regarding our image and communication strategy. In part, this was helped by the initiatives led by the Office of Communications in Tokyo but is also related to the reinforcement of our administrative team with more people. Regarding research, we adopted a new set of policies and guidelines for scientific publications, which led to an increase in our number of journal articles, conference papers, op-eds, book chapters, etc. Several project proposals and training programmes were also delivered during this one year period.
Finally, I should mention the efforts made towards a more gender-balanced institution. This included raising awareness of the issue within UNU-EGOV, the definition of guidelines to promote a balance between the number of females and males in training programmes delivered by UNU-EGOV, the hiring of new female staff members, amongst other initiatives. In conclusion: a busy but immensely fruitful year, in my opinion!
---
Q2. What is your view regarding the importance of EGOV for the society nowadays?
The importance of EGOV for the society nowadays is unquestionable! This relates to the fact that, depending on their performance and behaviour, governments may act either as a driving force for social development or, contrarily, they may restrain or delay all the development. They may promote a sustained and sustainable development of societies, or they may let the nations evolve towards lower levels of well-being. The policies defined and put in place by governments determine what a country is and will be in the future. This may seem a very dreaming and ideologist discourse, but I think it is not – we are what we make of us, and countries are what governments and people make of them.
In addition to this, I must add that ICT [Information and Communication Technologies] do play a central role. ICT is wholly imbued in today's lives of citizens and societies. And its presence tends to become even more significant – this trend will not stop or revert anymore. Although there is still some digital divide, motivated by different financial, infrastructural, and literacy conditions among citizens, the access and use of digital technologies is becoming increasingly and democratically available for all. And governments must not ignore this fact. They must intelligently use technologies to improve and reduce costs of their internal operations, enhance the way they provide services to citizens, give voice to and engage with citizens, increase transparency and accountability of institutions, regain trust in government, promote the definition of better policies, stimulate innovation and economic development, promote inclusiveness, make governments more responsive in natural disaster scenarios, improve prevention and fight against terrorism, among many other benefits that could be pointed out. All these benefits will contribute, directly and indirectly, to the fulfilment of the 2030 Sustainable Development Goals set by the United Nations. I believe entirely that EGOV is not just a facilitator, but a catalyser for the well-being of a nation.
---
Q3. You are also a researcher. Could you let us know a bit more about your work as a researcher in the EGOV domain?
EGOV research is a passion I discovered in 2001 when I got involved in a European research project called InfoCitizen. I realised that governments and the public sector are the biggest digital technologies consumers, with thousands of ICT applications and systems in use, and millions of users – a vast domain to be explored. I also realised that governments and public sector institutions have a set of peculiarities comparingly with private organisations that make the introduction, adoption, and use of digital technologies an even harder challenge for practitioners. Finally, it stroke me that the use of digital may indeed have remarkable impacts and consequences for people and society in general – this is a tremendous opportunity to change the world! From that moment on, all my research has been focused on how to promote the digital transformation of governments and public agencies to reach more sustainable, inclusive, and equal institutions.
Going back to your specific question, I have been conducting research in 5 main areas. I will not enter into details; however, what can be said is that these areas improve and facilitate the relationship between governments and citizens, and also allow governments to understand better whether their strategies are working as expected through assessment, measurement, and constant monitoring:
Interoperability and cross-agency collaboration;
Establishment of governance mechanisms;
EGOV measurement, assessment, and monitoring;
e-Democracy and e-Participation;
Public service delivery improvement.
---
Q4. What major trends do you see in the EGOV area for the upcoming years?
In my perspective, five major trends are looming in for the upcoming years.
Firstly, the exploration of new emerging technologies, such as Blockchain, Artificial Intelligence, Internet of Things, etc. These have the potential to be "game changers" that can boost not only the way public policies are formulated, implemented, and monitored, but also the levels of civic participation, enhanced efficiency, transparency, and accountability. We have, however, to be cautious about their use and research the implications and consequences of misuse or illegal use of such technologies, as highlighted by the UN Secretary-General, António Guterres, in his Strategy on New Technologies published in June.
Secondly, smarter services provision. The volume of available data is growing, together with the number of source of that data, which are increasingly more diverse: government-produced data (that governments are starting to make available through open government data initiatives), citizen-produced data (social media and mobile phones data), and machine-generated data (produced by drones, sensors, satellites, IoT, CCTV cameras, etc.). All this data is a strategic asset for the digitalisation of public sectors. Governments will have to start to think how they can combine and make use of all this data to provide more inclusive, effective, accountable, and transparent public institutions; to provide more tailored, context-aware, and pro-active services to citizens and businesses; and to promote more anticipatory governance.
A third trend is a citizen-driven approach. Citizens are a critical component in designing public policies and services at every stage of the policy cycle. For this reason, it is vital that governments move towards more participatory decision and policy making. Governments must, and will, in my opinion, start to see citizens as partners. The move from an agency-centred to a citizen-centred, and now citizen-driven approach, will be a future trend for governments.
Government integration is another trend. Despite the progress that has already been made by some countries at this level, there are still major developments that should be promoted at a technological, organizational, institutional and even cultural levels, in order to make possible the establishment of tighter cross-agency and cross-sector collaborations, that will lead to more integrated service delivery, and higher and better integration of public policies.
Finally, governments will tend to become more and more invisible to citizens. By becoming more tailored, more pro-active, more streamlined, the burden generated by governments over their citizens will be reduced, therefore creating the sense of an invisible "entity" – less burden for the citizens, with improved services that actually work.
*The views and opinions expressed in this interview are those of the interviewee and do not
necessarily reflect the official policy or the opinions, beliefs and viewpoints of the UNU.