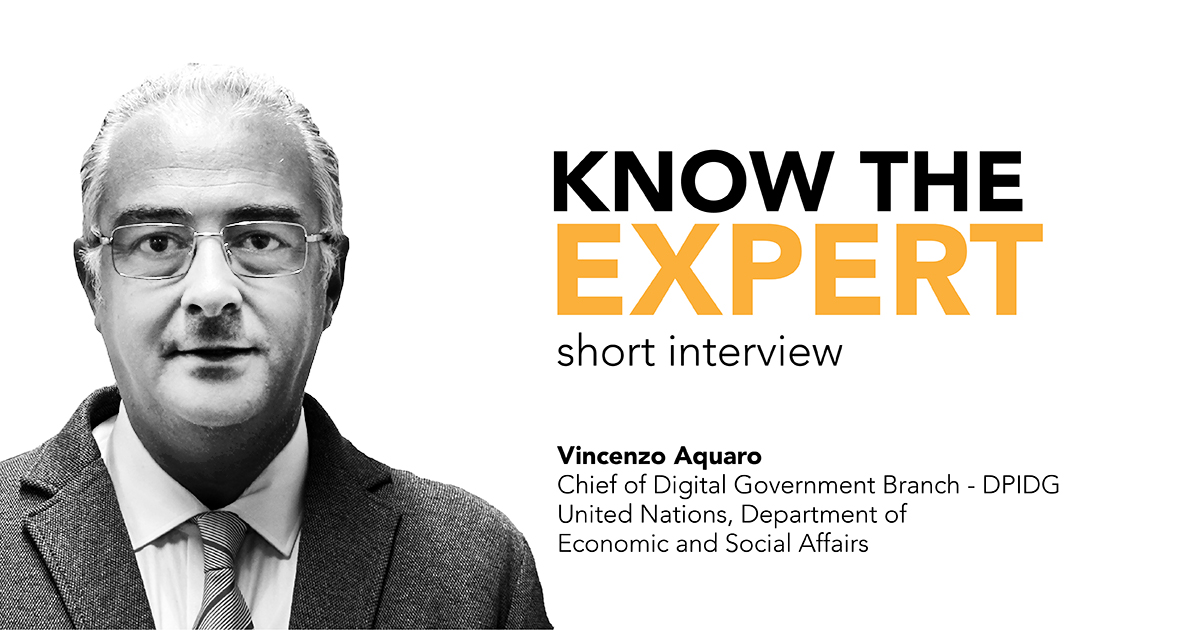 ---
Q1. You hold a Master's degree in Electronic Engineering from the University of Bari (Italy). Could you tell us a bit more about your career before you joined UNDESA?
In a nutshell, my personal story starts after a short post-graduate experience as Stager at the European Space Agency in the Netherlands. In the far year of 1992, I then moved to Rome to a telco company, working on strategic military projects as a software analyst. I resigned in 1998 to follow my ambition to run my own company, which I did for two years until I sold it. Afterwards, I became CEO of Formit Servizi SPA, an Italian ICT start-up company specialised in R&D, project management, monitoring and evaluation of Public Administration programmes. I spent ten years running the company, and I am proud to say that, under my leadership, Formit Servizi became one of the leading companies at the national level for that specific market.
From 2007 to 2010, I also established, together with academia and SMEs, a Private and Public Partnership Research Consortium (CARMA – Consortium for Automation and Risk Management in Agriculture). The consortium, co-financed by the European Commission and the Italian local government of Apulia's region, specialised in advanced research on risk management and financing for development in e-Agriculture. In 2008, I started to collaborate as an expert for the United Nations. In 2009, I decided to apply for the position of Chief of Service at the United Nations and, in January 2010, I was appointed Chief of Knowledge Branch in UN-DESA.
---
Q2. Back in 2012, you took the leadership of the United Nations E-Government Survey publication. Could you tell us what were the major goals you pursued for the publication in the following years?
By 2012, the survey had already established itself as a leading benchmarking reference on e-Government. It was – and continues to be – the only global report that assesses the e-Government development status of all UN Member States and serves as a policy tool for decision-makers. Since 2012, my goal has been to strengthen the methodology and ensure that the survey is more inclusive and participatory.
From the 2014 edition onwards, we have improved the assessment process itself, engaging more than 200 UN Online Volunteers to cover most primary languages of the 193 Member States and, for that edition, we won the UN Volunteer Award. With each edition, we analyse the lessons learned and invite global experts to advise on improving the methodology and assessment processes. We hold regular consultations with the Member States, the UN regional commissions, ITU, and the UNU to refine our assessment and tailor our policy recommendations to the specific global, regional, and local needs.
In 2018, we also introduced the Member State Questionnaire (MSQ), which allows the governments to share with us their own assessment of national-level e-Government development. This was an important addition to the survey allowing for more in-depth and nuanced data analysis and interpretation of results. I am happy to note that, in 2020, the number of UN Member States that filled in the questionnaire reached 148 (out of 193).
---
Q3. The 2020 edition of the Survey has been released recently. What are the plans for the next editions? Are there areas or themes you would like to see covered in the publication that are not currently?
In 2020, for the first time, the EGDI ranking of 193 UN Member States was supplemented by the rating classes – further analysis of countries grouped according to four equally defined intervals (quartiles), to gain better insight into the situations of subgroups of countries with similar levels of performance. For the next edition, we plan on focusing more on rating classes to offer a more nuanced analysis of similarities and differences between the country performances. Further, we will also expand the assessment of the local e-Government development, currently measured by the Local Online Survey Index (LOSI). The latter was piloted in 2018 for 40 cities around the world and expanded to 100 cities in 2020. We aim at covering all 193 Member states with the LOSI assessment in 2022.
Another critical area where we want to improve is our methodology regarding the assessment of e-Participation, which will allow us to identify countries with best practices in engaging people in public policy and decision-making processes. We all know that increased participation and active engagement improve transparency and accountability of the public sector, and it is important to track the progress of a country in achieving these objectives and online public services delivery.
As I mentioned earlier, the MSQ allow us to make a more in-depth analysis of country-level data. We will continue our MSQ surveys and use the data provided by the governments for quality-control, especially if we observe significant drops or increases in EGDI values year-on-year. Often, such specific datasets prove invaluable in understanding country and regional level trends and can further improve policy recommendations for specific countries and regions.
---
Q4. In a world affected by the COVID-19 pandemic, do you think EGOV has played its role well to help governments and citizens communicate while in lock-down?
During the COVID-19 pandemic, the role and importance of e-Government became central. It became a necessary element of communication, leadership, and collaboration between policymakers and society during the pandemic response. Digital technologies have enabled a broader sharing of knowledge by encouraging collaborative research to find solutions and provide transparent guidance to governments and people. The same technologies have also been used for the rapid dissemination of false or questionable information, leading to concerns about privacy and security.
Digital government offices have also experienced rapid digital transformation during the COVID-19 pandemic. In a quick call for inputs by UN DESA, government officials around the world shared nearly 500 COVID-19 related applications in less than two weeks. If, by 25 March 2020, only 57% of the UN Member States (110 countries) had put in place some information related to COVID-19 in their national portals, by mid-May this number reached 97.5%. Such trends will continue beyond the pandemic response. Even countries struggling with chronic shortages of financial resources and infrastructure limitations are currently exploring avenues of boosting e-Government development in their countries.
---
Q5. What significant trends do you see in the EGOV area for the upcoming years?
The pandemic not only heightened the importance of digital government, but it also highlighted the need for cross-border collaboration. We became all too aware of the need to have many online services on a global scale. Educational institutions had to rely on global online platforms to conduct classes. Trade, communication, routine business procedures that had a mix of analog and online versions had to find ways of moving to digital-only versions to keep the continuity of services. With sudden travel disruptions and restrictions, organisations and people had to embrace remote working arrangements, and so forth. The United Nations is no exception; we had to find ways of operating online on a global scale, using global platforms, and adjusting to time-zone differences.
For many public and private services, the importance of digital IDs became incredibly vivid. Provision of such services through mobile and multichannel platforms became a norm. The use of artificial intelligence (AI) in tracking and tracing apps helped countries effectively process significant volumes of data and address public health concerns. The trends of deploying frontier technology in everyday solutions will continue, and we will see more data-driven and demand-driven public services. Increasingly, the governments will become anticipatory and will combine predictive analytics with traditional policy and decision-making processes. The dependency for more user-friendly and intuitive public services will also increase. Even today, we see a shift in many digitally advanced countries towards citizen-centric public services delivery around life-events. These trends will undoubtedly continue.
I want to highlight, however, some risks exacerbated by digital expansion. Digital divides remain and may deepen between and within countries. Digital have and have-nots determine people's prospect of livelihoods and wellbeing. Further, the use of technology is not harm-free. During COVID-19, policymakers have been called upon to collect and process COVID-19-related data in an ethical, transparent, safe, interoperable, and secure manner that protects the privacy and data security of individuals. This highlights the importance of trust and ethical standards in the use of technology. Over the last decade, we witnessed numerous examples of data privacy breaches, massive surveillance, the proliferation of hate speech, violations of freedom of expression and movement, and threats to cybersecurity. We need to be mindful in embracing and using technology to harness cooperation rather than societal divides.
---
*The views and opinions expressed in this interview are those of the interviewee and do not necessarily
reflect the official policy or the opinions, beliefs, and viewpoints of the UNU.