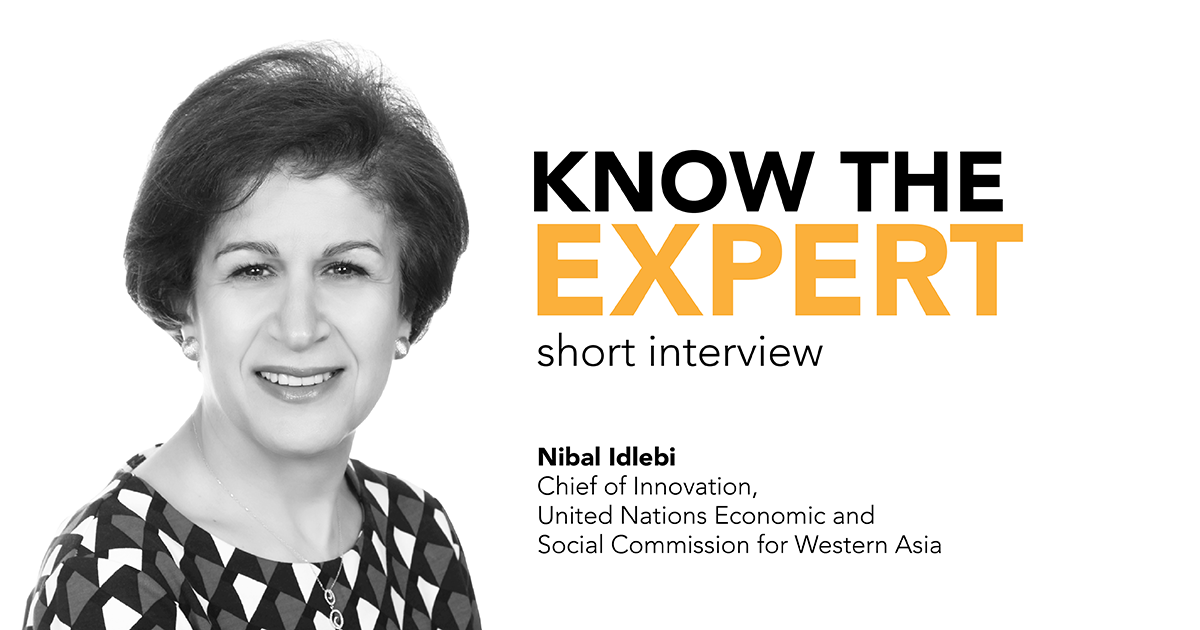 ---
Q1. It has been 18 years since you joined the United Nations Economic and Social Commission for Western Asia (UN-ESCWA). Could you highlight some of the projects or initiatives you are most proud of?
My work with ESCWA during this long period was very interesting and has covered various themes, including those related to building an information society, enhancing innovation policies, and fostering digital and open government. While I am proud of all my work with ESCWA, I can highlight three main projects:
1 – The first was a project to formulate cyber legislation in the Arab region. In 2012, ESCWA prepared six directives for cyber legislation that proved very useful for Arab countries and provided significant added value in a nascent domain on which the region had limited capabilities at the time.
2 – The second was the ESCWA initiative on Digital Arabic Content (shortened for DAC). Since 2005, ESCWA has identified digital content as a strategic domain for bridging digital gaps and preserving the Arabic language in cyberspace. The focus was directed to the potential job opportunities offered by DAC, especially for youth and entrepreneurs, and today, ESCWA organises an annual Award on DAC for Sustainable Development.
3 – The third was our initiative for fostering open government in the Arab region. Based on the progress in e-Government in the region, ESCWA proposed a framework for facilitating transformation to open government in Arab countries. Additionally, ESCWA published capacity development materials on open data and citizen engagement. More recently, in collaboration with OECD, we have published a report on the economic and social impact of open government and launched the Arab Open Government Portal.
---
Q2. Before joining UN-ESCWA, you were Deputy Minister in the Ministry of Communication and Technology and Professor in the Higher Institute of Applied Science and Technology, both in Syria. How do you describe the experience and skills needed to work in such diverse fields?

The nature of work in academia is for sure very different from the work in the government. Both are interesting, and I believe we should strengthen the collaboration between the government and academia to accelerate the development in the various domains.
My work with academia required the pedagogic and research skills acquired during my PhD programme and work as an assistant lecturer at a university in France. My long-term studies in computer science covered both the theoretical and the practical sides, and my work experience with a computer firm in France enabled me to have good perspectives and, at the same time, be a lecturer in computer architecture and parallel processing at the Higher Institute for Applied Science and Technology in Syria.
My work as a deputy minister was in the area of Information Communication Technology (ICT) and required skills and vision for the development of the ICT sector that academia does not necessarily consider. This role required efforts to learn from the experiences of other countries and identify the policies and strategic directions that suit the country while taking into account its sector's level of maturity. The ICT sector, as you know, is an agile and dynamic one that made a lot of progress in the past 20 years. The work of the government required setting national priorities and designing necessary ICT development projects.
I should mention that during my work in academia, I directed developmental pilot projects and worked with a national ICT NGO. This experience helped me a lot in my work with the government.
---
Q3. Much like the rest of the world, Lebanon also felt the impact of COVID. More than two years on, what were the major issues faced by your organisation, headquartered in Beirut, in dealing with the pandemic, and how did it affect your daily work?
The major issue was completely switching from office to remote working using digital collaboration tools. Fortunately, ESCWA was well prepared in terms of ICT infrastructure and software and did not face any problem in making this switch. However, the issue was faced by many local institutions and many staff as the country was going through various crises.
During the pandemic, it was not guaranteed to have the appropriate level of Internet access in all regions in Lebanon, and some staff faced some connectivity issues. Staff were also affected by the difficult political, financial, and economic situation in Lebanon and by the Beirut port explosion on 4 August 2020. Unfortunately, the ESCWA building and the homes of several staff were damaged, and some people from the instutition were also injured. It was a very difficult period!
---
Q4. You will be chairing a session at the upcoming ICEGOV 2022 conference in Portugal focused on e-Participation and how it can accelerate digital transformation. How do you see e-Participation in the Arab Region currently? Is it developing well?
Many countries, including Arab countries, are accelerating their steps for digital transformation, and some have already formulated a related national policy/strategy or plan. Most of these plans incorporate e-Participation as an essential aspect that should be strengthened and fostered in the country.
In fact, transferring the interaction between government and other stakeholders to cyberspace will certainly accelerate digital transformation. From one side, this will push the government to digitise data, information, and reports; and, more importantly, digitise the interaction process with other stakeholders. e-Participation will also drive the private sector, NGOs, and people to use government digital platforms to access information, express their opinions, provide comments and feedback, and also make complaints. Therefore, e-Participation is a key component in facilitating digital transformation in society.
In the Arab region, decision-makers are quite aware of the importance of public participation and engagement in the government's decision-making process. Some countries, such as Bahrain, Jordan, Tunisia, Morocco, Saudi Arabia, and the UAE, launched important initiatives in this regard. UNDESA's e-Participation index showed that most Arab countries have made progress in the past few years; in 2020, seven Arab countries scored higher than the world average. Based on our latest report, Arab governments still need to hold more public consultations and economic and social dialogues on public policies and their challenges. They should also encourage citizens to share their views and ideas that could contribute to the design and implementation of public policies and services.
---
Q5. What do you think will be the major trends in Digital Governance in the upcoming years at a more global level?
There are many global challenges facing digital governance. In my opinion, the most important ones are 1) the responsible and ethical use of emerging technologies, such as Artificial Intelligence and Big Data; 2) digital security and privacy, especially with the spread of 5G, extended reality and the Metaverse; and 3) open government, including the transparency, openness and citizen-centric services.
These challenges are interlinked. For example, Artificial Intelligence and Big Data offer a huge potential for new digital services that might better respond to public needs. However, they also raise issues related to the ethical and responsible use of technology and the importance of considering data pertaining to all people. While openness enhances transparency and accountability, collecting data through social media and digital government services brings issues related to personal data protection and privacy. The challenging issues could be addressed if governments put in place the rules and regulations that will be respected by all.
---
*The views and opinions expressed in this interview are those of the interviewee and do not necessarily
reflect the official policy or the opinions, beliefs, and viewpoints of the UNU.